Yoho National Park's crystal blue waters and towering panoramas provide an amazing backdrop for anglers of all ages. The fishing's not bad, either!
Early risers may be treated to a rocky mountain sunrise, spot an elk taking a morning drink, or be joined by an osprey or a bald eagle in search of one of a variety of trout that inhabit Yoho's lakes and rivers.
Yoho's Fishing Hot Spots
Emerald Lake is the most popular fishing destination in the park. Boat rentals are available at the Emerald Sports boathouse. Brook Char and Rainbow Trout are a frequent catch.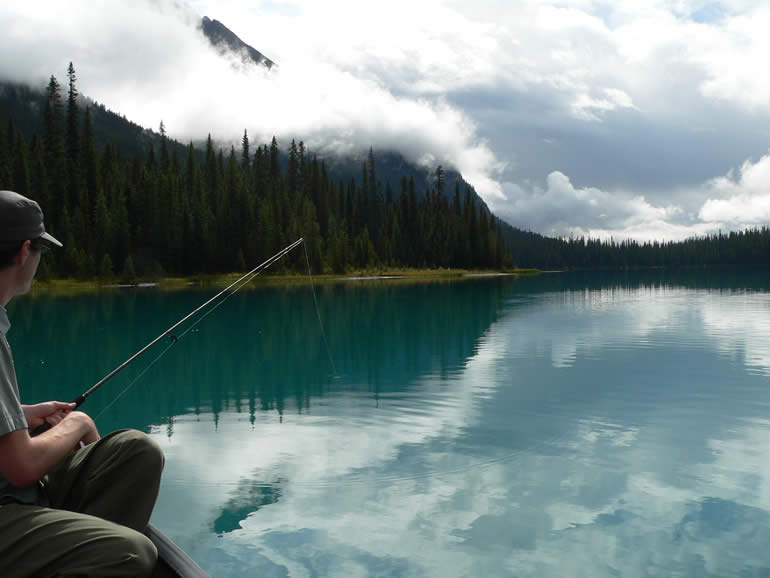 Cutthroat trout are highly sought after at Lake O'Hara, where visitor access is quite limited. Boat rentals are available at the Lake O'Hara Lodge.
Wapta Lake is easily accessible from the Trans Canada Highway on the east end of the park and offers good lake trout fishing. Sherbrooke Lake, a moderate 3km (2 mile) uphill hike whose trailhead starts opposite Wapta Lake, is also a great place to find lake trout.
Fly fishing is popular on the Kicking Horse River west of the Field townsite. Fishing is permitted from the confluence of the Kicking Horse and Yoho rivers downstream to the park boundary. Cutthroat and Rainbow Trout, Brook Char, Dolly Varden, and Whitefish are all common catches in the Kicking Horse River.
National Park Fishing Regulations
A National Park fishing permit is required to fish in Yoho National Park. Anglers under 16 years of age may fish without a permit if they are accompanied by an adult who has purchased a permit. Seasonal restrictions are in effect, and strict regulations govern catch limits, legal bait, and environmental practices within the park.
Fishing Permits
Click here to see Fishing Permit Fees for Yoho National Park
To obtain more information or purchase a national park fishing permit, visit the Friends of Yoho organization at the Field Information Centre, Lake O'Hara Lodge, or check out the Parks Canada website.
Important Notice Before Entering Yoho Waterways:
To reduce the spread of invasive species, Parks Canada now requires visitors to complete a self-certification permit process before boating, paddling or fishing in Yoho National Park. You can obtain these permits from any Yoho park gate, Kicking Horse Campground, or the Yoho Visitor Center in Field, BC. All equipment must be cleaned and dried for more than 48 hours before entering Yoho waters. A penalty of up to $25,000 may be levied against anyone who fails to satisfy this permit process. If you are bringing your watercraft or fishing gear from outside BC or Alberta you are required to dry your equipment for 30 days before using it in the park.

* This website has no affiliation with Parks Canada, Yoho National Park, or any government or provincial entities and is owned and operated solely by Fresh Front Media Company. While Fresh Front Media Company has made efforts to verify the accuracy of this site, Parks Canada rules, regulations, fees, and visitor safety information should be verified on Parks Canada's