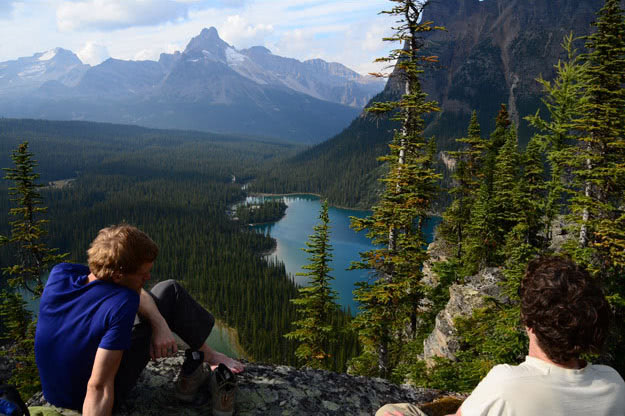 Generations of visitors to Yoho National Park have regarded the alpine splendour of the Lake O'Hara area with deep reverence. Here are amassed the bubbling brooks, vibrant mosses, vast rock amphitheatres of snow, cloud and light that have inspired the works of scores of humbled artists, chief among them the luminaries of Canada's renowned Group of Seven.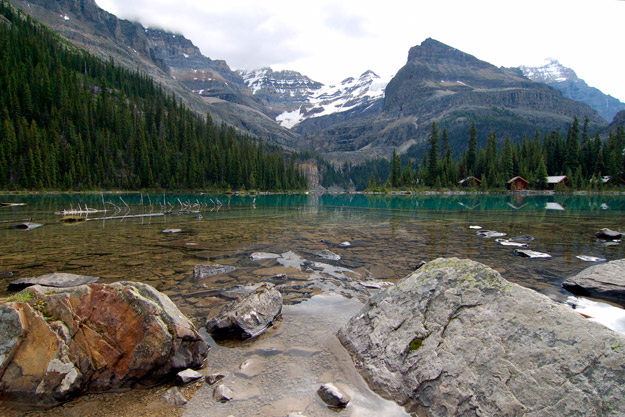 Recognizing the fragility of Lake O'Hara's alpine environment and the importance of ensuring its preservation, Parks Canada has limited summer access. The village of Field has long served as a gateway to the region, with a ten-minute outing from town being all that separates campers and hikers from the morning shuttle. Eager adventurers willing to make the 11km trek into the region may do so on foot.
One felt that the mountains are not completed. The builders are still at work.
A stairway of small ponds serve as incremental passageways from the deep, frigid glacially-fed lakes found largely above the tree line in the high plateaus sourcing Lake O'Hara's basin. Seven Sisters Falls, visible from the lake approach, is the most immediately striking evidence that O'Hara makes a strong case for the title of most stunning lake in the region.
One of Many Magnificent Lakes
The richly-toned Lakes Oesa, Opabin, and McArthur all make worthy visits, with high chances of catching a glimpse of Yoho's mountain wildlife. Hikers frequently spot Mountain Goats, Hoary Marmots and Pikas.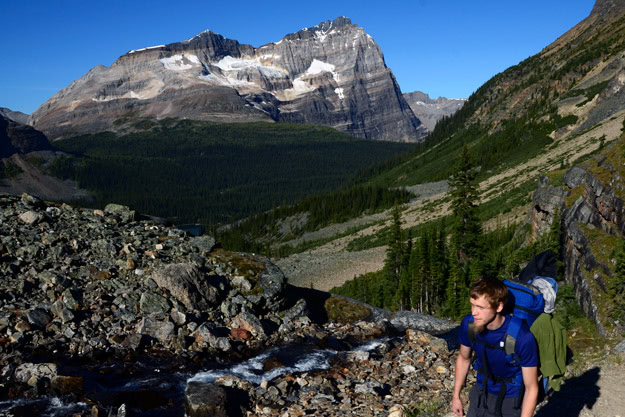 Summer adventurers have the opportunity to explore a diverse range of over 80 km of alpine hiking trails in relative solitude. Day hikers encounter a unique mix of high altitude ridges, flowering alpine meadows, flowing streams, lichen-covered rock faces, imposing cliffs, and scattered boulder fields. Le Relais Day Shelter is available for hikers to grab a snack, warm up, and seek out hiking advice from locals.
Lake O'Hara Shuttle Bus
The 11km long Lake O'Hara access road is closed to public traffic and cycling. For this reason it is generally recommended that you take the Lake O'Hara shuttle bus. The bus runs daily from mid-June to mid-October. Seating must be reserved up to three months in advance beginning in April. Visit the Parks Canada Website for information on how to reserve a seat.
In wintertime shuttle access to Lake O'Hara is put on hold and ski touring is the only way to access the backcountry powder and Elizabeth Parker Hut. On your way up you will pass through avalanche terrain which will require everyone in your party to have avalanche gear and training.
Wake Up In The Alpine
To spend the night at Lake O'Hara you can book a room or cabin at the historic Lake O'Hara Lodge, reserve a site at the Parks Canada campground, or join the shared sleeping quarters found at the Elizabeth Parker Hut. Be advised that there is a significant amount of competition for Lake O'Hara reservations, and as such you will need to plan your trip well in advance. We recommend that you carefully review the reservation policies on the Parks Canada Lake O'Hara information page.

* This website has no affiliation with Parks Canada, Yoho National Park, or any government or provincial entities and is owned and operated solely by Fresh Front Media Company. While Fresh Front Media Company has made efforts to verify the accuracy of this site, Parks Canada rules, regulations, fees, and visitor safety information should be verified on Parks Canada's