Takakkaw Falls and Laughing Falls
Nothing captures the awe and wonder of Yoho National Park like the tremendous thunder of Takakkaw Falls. Plunging from above at a height of 380m (1246 ft ) with a 254m ( 833 ft ) freefall, Canada's second highest waterfall leaves every visitor humbled. Fed by the Daly Glacier above, Takakkaw Falls' flow is at its peak in July when glacial meltwater is running freely. The Yoho Valley access road just east of Field is closed for much of the winter season due to high-frequency avalanches, opening June through October for the summer season. The Kicking Horse Ski Club sets 7km of track for cross-country skiiers on an irregular basis in the winter months. Be sure to check the Parks Canada Avalanche Conditions Report before visiting in winter.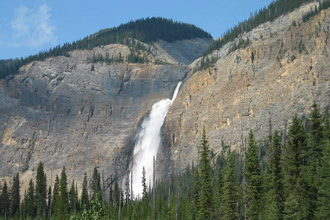 Takakkaw Falls is not alone in the Yoho Valley. Nearby, the chutes of Laughing Falls tumble 30 meters from the Little Yoho Valley above. The Laughing Falls backcountry campground provides the opportunity for hikers to fall asleep to the steady sound of the waterfall and churning river.
Wapta Falls
Wapta Falls can be found near the west end gate of Yoho National Park on the Kicking Horse River. The waterfall is accessed relatively easily via a 30 minute hike from the Trans Canada Highway. Well worth the effort, this hike is suitable for the whole family with the reward of an enjoyable outing to see one of Yoho's largest waterfalls backdropped by the jagged peaks of the Ottertail Range.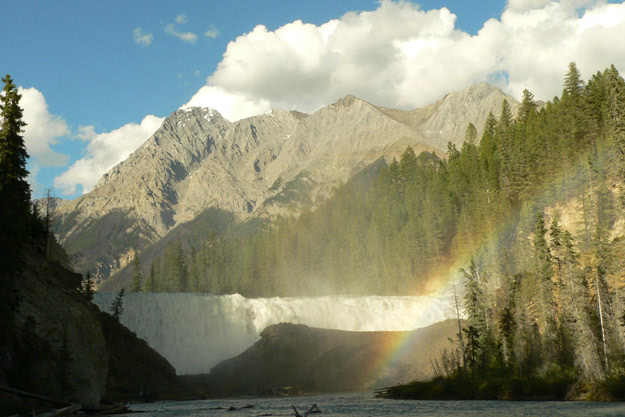 Wapta Falls, as named by First Nations people, was the location of an historical event in 1858 that gave the Kicking Horse River its name. During this year the Palliser Expedition brought the first white explorers to Yoho. Near Wapta Falls, expedition member James Hector was kicked in the chest while trying to recover a runaway horse. The other expedition members, believing he was dead, began digging his grave, only to be surprised by a blink of Hector's eye 2 hours later -- luckily for Hector, before his grave was put to use. He recovered suitably to push on with the expedition which proceeded to make the first recorded passage of what is now known as the Big Hill leading up into the Bow Valley from the present day location of Field. Expedition members aptly named the river The Kicking Horse.

* This website has no affiliation with Parks Canada, Yoho National Park, or any government or provincial entities and is owned and operated solely by Fresh Front Media Company. While Fresh Front Media Company has made efforts to verify the accuracy of this site, Parks Canada rules, regulations, fees, and visitor safety information should be verified on Parks Canada's