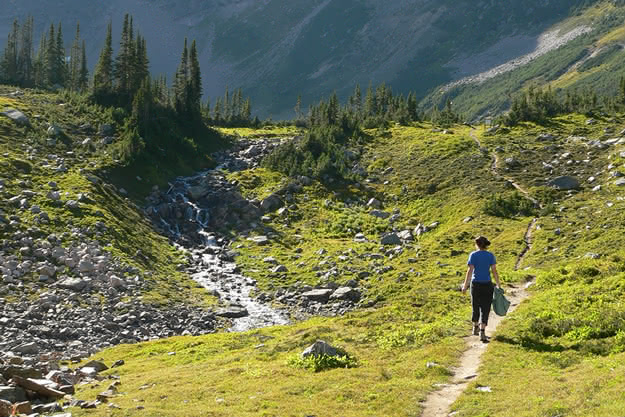 Yoho National Park offers more than 400km (249 miles) of maintained trails that will take you through forested valleys, along glacial rivers, and up into the high alpine where you can rest beside pristine lakes and take in the views. The hiking season in Yoho generally begins in May and extends into October, depending on when the first snow falls, with July and August offering ideal conditions for exploring the higher mountain elevations.
For a casual and partially wheelchair-friendly introduction to Yoho, check out the Emerald Lake Loop Trail which provides many captivating views as you circle the lake. From the Kicking Horse Campground you can quickly access the Centennial trail that follows the Yoho River, or explore Yoho's history on the "Walk In The Past" interpretive trail. The trails to Takakkaw Falls and Wapta Falls are two more easy options for experiencing Yoho's grandeur with low to moderate exertion.
For longer day trips, the Iceline Trail in Yoho Valley is well worth the uphill challenge for its incredible views of Takakkaw Falls and the Emerald Glacier. Near Emerald Lake, a steep jaunt into Emerald Basin will get your heart beating and reward you with a unique alpine setting where three towering mountains converge. The Sherbrooke Lake Trail is another noteworthy day hike, with options to venture up beyond the lake into Niles Meadows or to the Paget Lookout. For those looking for a secluded mountain experience, there are many trails less traveled to be found throughout Yoho - some of which see only a handful of hikers each summer.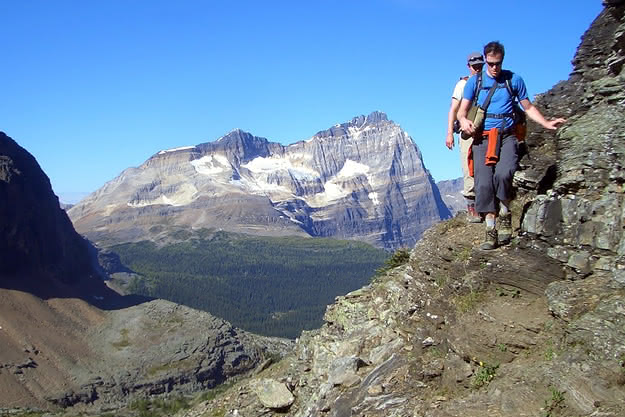 If you're looking for a multi-day trip, Yoho Valley offers many trail variations to fill two or three days of exploration, and can also be combined with a traverse into the Emerald Lake valley. Finally, for a Canadian Rockies hiking experience like no other, plan ahead to visit Lake O'Hara, where the meticulously constructed trails will reveal breathtaking mountain vistas around every corner. There are several day hikes accessible from the bus drop-off point if you can only make it in for the day.
Whether you're finding a secluded waterfall, spotting wildlife, or enjoying a sunny alpine meadow bursting with wildflowers, hiking is an ideal way to experience the awe of Yoho.
For a more detailed look at Yoho's trails you can download and print the Yoho National Park or Lake O'Hara trail maps published by Parks Canada.
Popular Yoho National Park Trails:

| Trail | Time | Elevation | Distance |
| --- | --- | --- | --- |
| Emerald Lake Loop | 2 hours | - | 5.2km |
| A-Walk-In-The-Past | 1.5 hours | - | 1.2km |
| Centennial | 1 hour | - | 1km |
| Hamilton Falls | 1 hour | - | 0.7km |
| Wapta Falls | 1.5 hours | 30m | 5.2km |
| Takakkaw Falls | 0.5 hours | - | 1km |
| Emerald Basin | 2.5 hours | 250m | 9km |
| Sherbrooke Lake | 1.5 hours | 210m | 6km |
| Paget Lookout | 2 hours | 520m | 7km |
| Iceline | 9 hours | 700m | 16-20km |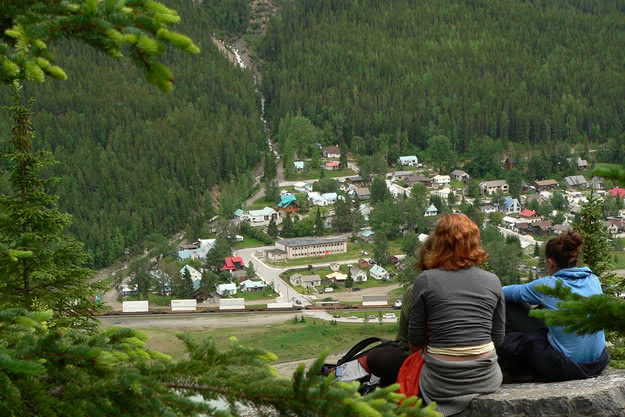 * This website has no affiliation with Parks Canada, Yoho National Park, or any government or provincial entities and is owned and operated solely by Fresh Front Media Company. While Fresh Front Media Company has made efforts to verify the accuracy of this site, Parks Canada rules, regulations, fees, and visitor safety information should be verified on Parks Canada's