"Climb on!"
Two words, two hands lightly dusted with chalk, a light tug on a nearby handhold and all other thoughts fade away. The collection of gear clipped to my harness clinks and rattles as I shift my weight, grunting through a difficult crux section before clipping in to the anchor.
"Secure!"
Only then do I allow myself to remember my surroundings. 30m above my partner on belay, I manage to seat myself on a small ledge and fix my gaze across the cool blue waters of Lake Louise. Sitting here in the warm sun, the scent of pine wafting along on a light breeze, I could easily let the day drift away without moving an inch.
If it weren't for the dozens of routes that I've yet to climb, that is.
Climbing at the Back of Lake Louise
The quartzite cliff faces that hug the back end of Lake Louise, a 20 minute drive east from Field into Banff National Park, have been the playground of a dedicated band of local climbers and visiting rock rats since early development began decades ago. Here you'll find a wide variety of sport and traditional gear routes, ranging from from 5.6 to 5.14 (French 3-8b). While there are many classic sport climbs on these walls, an old-school ethic is carefully guarded at this crag, with many routes featuring mixed protection wherever gear placement is viable. As such it is highly recommended that you bring cams and nuts to enjoy this exquisite quartzite.
Railway Avenue in Field
The Field Valley is home to a crag of its own, relatively obscure despite being close to town. Railway Avenue is a steep quartzite face with six bolted routes near the railway tracks at the base of Mount Stephen. The climbing established at this crag are graded 11a (6c) or higher. Beta for these routes can be found in Sport Climbing In the Canadian Rockies (Martin & Jones, 2016) or Banff Rock (Perry, 2012).
Takakkaw Falls
A classic route can be found beside the gigantic Takakkaw waterfall. While relatively easy at 5.7 (4), this climb is a serious outing with its notoriously chossy rock, dangerously exposed scrambling, and complicated decent. Nonetheless, the route offers a unique and memorable experience. After a few sketchy traversing pitches you'll find yourself climbing directly beside the rumbling 200-metre-tall waterfall. The excitement continues as you complete the climb by crawling through a tunnel to access the final pitch above the waterfall's upper channel. For complete beta and pictures be sure to visit MountainProject.com
Bouldering in Yoho National Park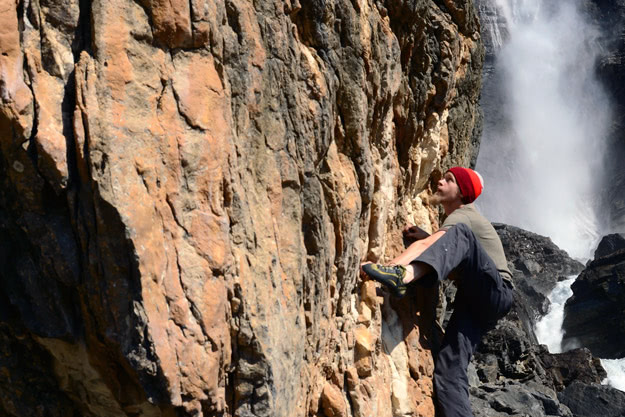 Cathedral Forest / Spiral Tunnels Boulders
Climbers who favour the difficult moves and technical skills demanded by bouldering will enjoy a stop at this classic road-side location. The Cathedral Mountain boulder field hosts dozens of quartzite and limestone boulders with problems ranging from V0 to V10. The aptly-named First Stone is located across from the Spiral Tunnels Lookout between Field and Lake Louise. With a handful of boulders nestled conveniently nearby, it's an accessible spot for a quick session.
Takakkaw Falls Boulders
The scree slopes surrounding the base of Takakkaw Falls are dotted with climbable boulders. The best collection of these giants can be found by crossing the river at the Takakkaw Falls parking lot and following the paved path to its end. From here hike across the boulder field found to your left. In a few minutes you will find yourself surrounded by 10 to 15 large boulders. The problems here range from V0 to V6.

* This website has no affiliation with Parks Canada, Yoho National Park, or any government or provincial entities and is owned and operated solely by Fresh Front Media Company. While Fresh Front Media Company has made efforts to verify the accuracy of this site, Parks Canada rules, regulations, fees, and visitor safety information should be verified on Parks Canada's