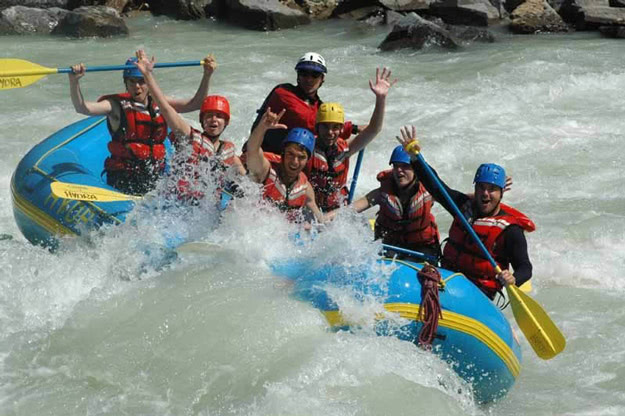 Kicking Horse River Rafting
The glacier fed water of the Kicking Horse River that flows past the town of Field has shaped the valley since the time of the ice age. As the river travels westward towards the town of Golden and the Columbia River, it gains in strength and size to offer world class whitewater rafting. By traveling thirty five minutes from Field on the Trans Canada Highway one can conveniently access the premier location for river rafting in the Canadian Rockies.
Over thousands of years the Kicking Horse river has carved a mountainous canyon where it breaks free from the Canadian Rockies to join the Columbia River. In the summer the Kicking Horse River swells, offering a true river rafting adventure. Family rafting trips are available, as well as relaxing scenic floats down the Kicking Horse River. These professionally guided rafting trips will give you a chance to see the rugged mountain beauty from a unique perspective. This is a perfect opportunity to spot wildlife such as bald eagles, bears, and mountains goats.
For the adventurous, river rafting on the Kicking Horse is much more about white water than scenic beauty. By the time towering canyon walls rise above you on both sides, class 2 and 3 rapids will have turned to a raging class 4+ torrents. You'll instead be focused on the gigantic standing waves before you and the directions your rafting guide is shouting. Four kilometers (2.5 miles) of class 4+ action on the Kicking Horse River gives you plenty of time to get your hair wet and your heart pumping.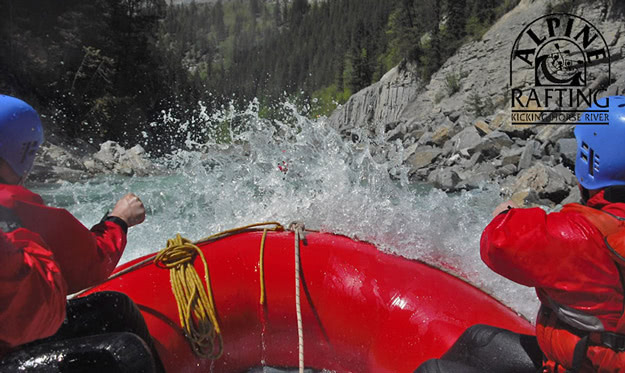 For those who are not experienced white water travelers, there are certified companies that will provide the equipment and expert guidance that will make it possible for you to safely experience the thrills of white water rafting. Half or full day whitewater rafting trips down the Kicking Horse River are provided at reasonable prices.

Certified guiding companies that offer whitewater rafting trips on the Kicking Horse River usually set up camp just west of Yoho National Park. Some of these companies also offer shuttle services between Field and the river camps. For day trips food services are usually available so you don't have to pack a lunch.

Rafting season generally begins in June and extends till late August, depending on river levels. For more information on whitewater rafting the Kicking Horse River, and how to make a reservation, consult the list of guide companies on this page.

* This website has no affiliation with Parks Canada, Yoho National Park, or any government or provincial entities and is owned and operated solely by Fresh Front Media Company. While Fresh Front Media Company has made efforts to verify the accuracy of this site, Parks Canada rules, regulations, fees, and visitor safety information should be verified on Parks Canada's