Canoeing is one of the best ways to enjoy a sunny day in the Canadian Rockies. There are many wonderful canoe opportunities on the many lakes of the rockies, or for the experienced canoeist, the Kicking Horse and Bow Rivers offer an exciting river paddling challenge.
For anyone who enjoys a nice peaceful float, canoeing on Emerald Lake, Moraine Lake, or Lake Louise should not be missed while staying in Field. These are no doubt three of the world's most beautiful lakes, and have inspired many a photographer, artist, and traveler who have visited. As you paddle your canoe across the calm waters, you will be amazed at the vivid colour of the water and the tall mountains that rise from the shoreline.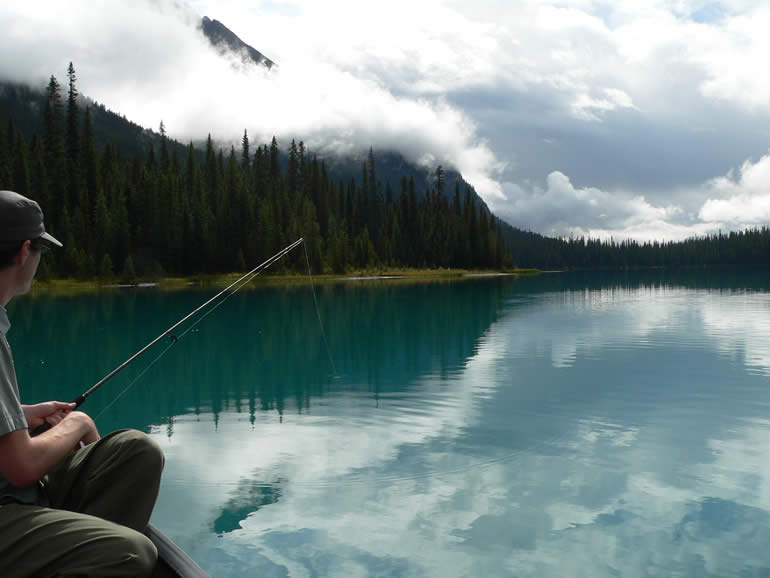 Emerald Lake, Moraine Lake and Lake Louise each offer established canoe rental services throughout the summer season. Canoeing is an accessible and affordable way for anyone to enjoy a day outdoors in the Canadian Rockies.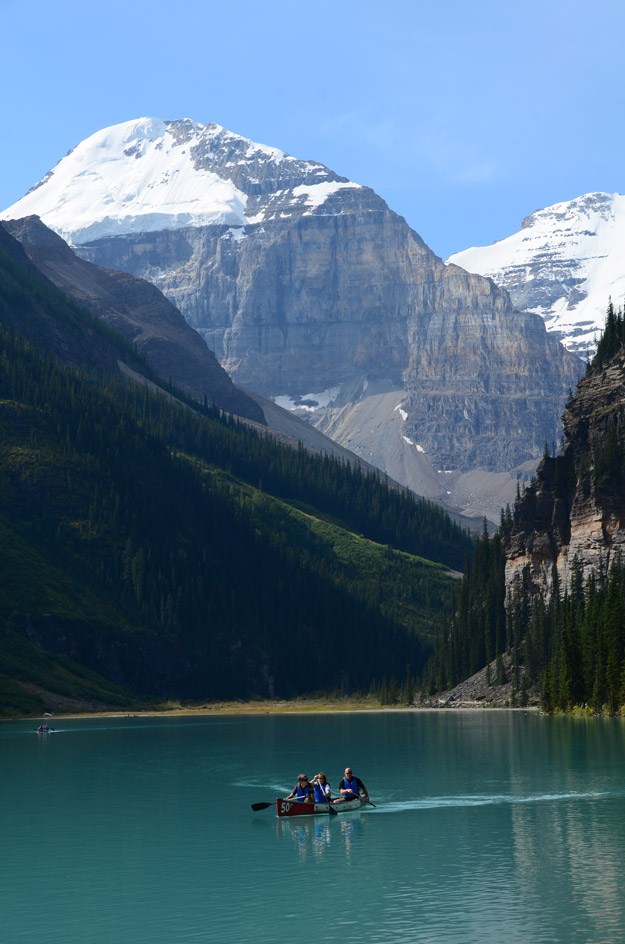 Canoe Rentals
Canoes can be rented at Emerald Lake in Yoho National Park, as well as Lake Louise and Moraine Lake within Banff National Park. Look for contact details for each provider on this page.
Important Notice Before Entering Yoho Waterways:
To reduce the spread of invasive species, Parks Canada now requires visitors to complete a self-certification permit process before boating, paddling or fishing in Yoho National Park. You can obtain these permits from any Yoho park gate, Kicking Horse Campground, or the Yoho Visitor Center in Field, BC. All equipment must be cleaned and dried for more than 48 hours before entering Yoho waters. A penalty of up to $25,000 may be levied against anyone who fails to satisfy this permit process. If you are bringing your watercraft or fishing gear from outside BC or Alberta you are required to dry your equipment for 30 days before using it in the park.

* This website has no affiliation with Parks Canada, Yoho National Park, or any government or provincial entities and is owned and operated solely by Fresh Front Media Company. While Fresh Front Media Company has made efforts to verify the accuracy of this site, Parks Canada rules, regulations, fees, and visitor safety information should be verified on Parks Canada's